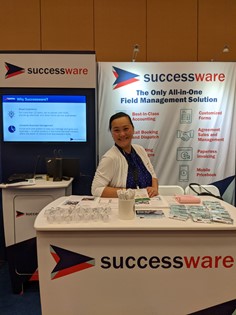 Successware was pleased to exhibit at the Success Group International (SGI) Partner Jam at the Fall Expo on October 6 and October 7 in Temecula, CA. The Expo was held at the beautiful Pechanga Resort & Casino and drew a crowd of over 850 attendees. We had a booth at the show and were proud to be the only external technology vendor exhibiting.
SGI's Fall Expo was an excellent opportunity to mingle and network with their membership base. We were able to chat with current customers about our new Success Tools by Successware and potential new customers. We received great feedback regarding our new tools, and the attendees were eager to learn more. We were happy to promote our brand, increase our visibility, and generate leads.
SGI is a significant strategic partner for Successware. SGI was founded in 1999, and their customer base includes contractors in the HVAC, Plumbing, Electrical, and Roofing trades, which is our core customer base. SGI is the largest contractor organization in North American and offers its contractors help through their business model, proprietary tools and systems, and expert training and coaching.