Call Booking and Customer Relations Software
Make a Great First Impression
When your customers reach out by phone, your customer service representatives must be ready to convert. Successware® has a robust array of features to help you gather customer information efficiently. This information is then used to match them with the right technician and service.
Call booking and customer relationship management tools from Successware can:
Save time
Help ensure customers receive the help they need
Reduce the number of callbacks
See what our customers are saying:
Successware Call Taking Features
The Call Taking module in Successware is a single interface that allows you to:
Search for existing customers
Add new customer information
Create jobs based on customer needs.
With our call booking software, you can discover which customer service reps have the best booking ratios and easily tell who needs further training.
Home Service Call Software
The Call Handling tool provides the ability to create call taking scripts. These scripts help you CSRs to move through the booking process with confidence.
This feature also helps onboard new employees with a clearly outlined process. Adding Objection Handling scripts can give your call takers more confidence when answering customers' questions.
A scripted call handling process can mean:
Higher closing ratios for your call takers
More jobs for your technicians
More profit for your business
Callback Tracking
Did you know the average company gives away 2% of annual revenue to warranty callbacks? With the Call Tracking software from Successware, your CSRs can create a new job, and easily identify whether it's a callback. If it is, they can use our call CRM relationship between the original appointment and the new one.
Knowing which technicians are causing callbacks, and what for, allows you to do two important things:
Identify additional training opportunities.
Reduce the amount of time your technicians spend on less profitable jobs.
CRM and Call Scheduling Software
Successware's contact information software allows you to collect customer data such as:
Addresses
Email addresses
Phone numbers
Work history
Equipment age and condition
Membership status
History of repairs
With our CRM booking system, you can create customer-focused marketing material and pull targeted marketing lists that ensure your employees are asking the right questions and following best practices on every call.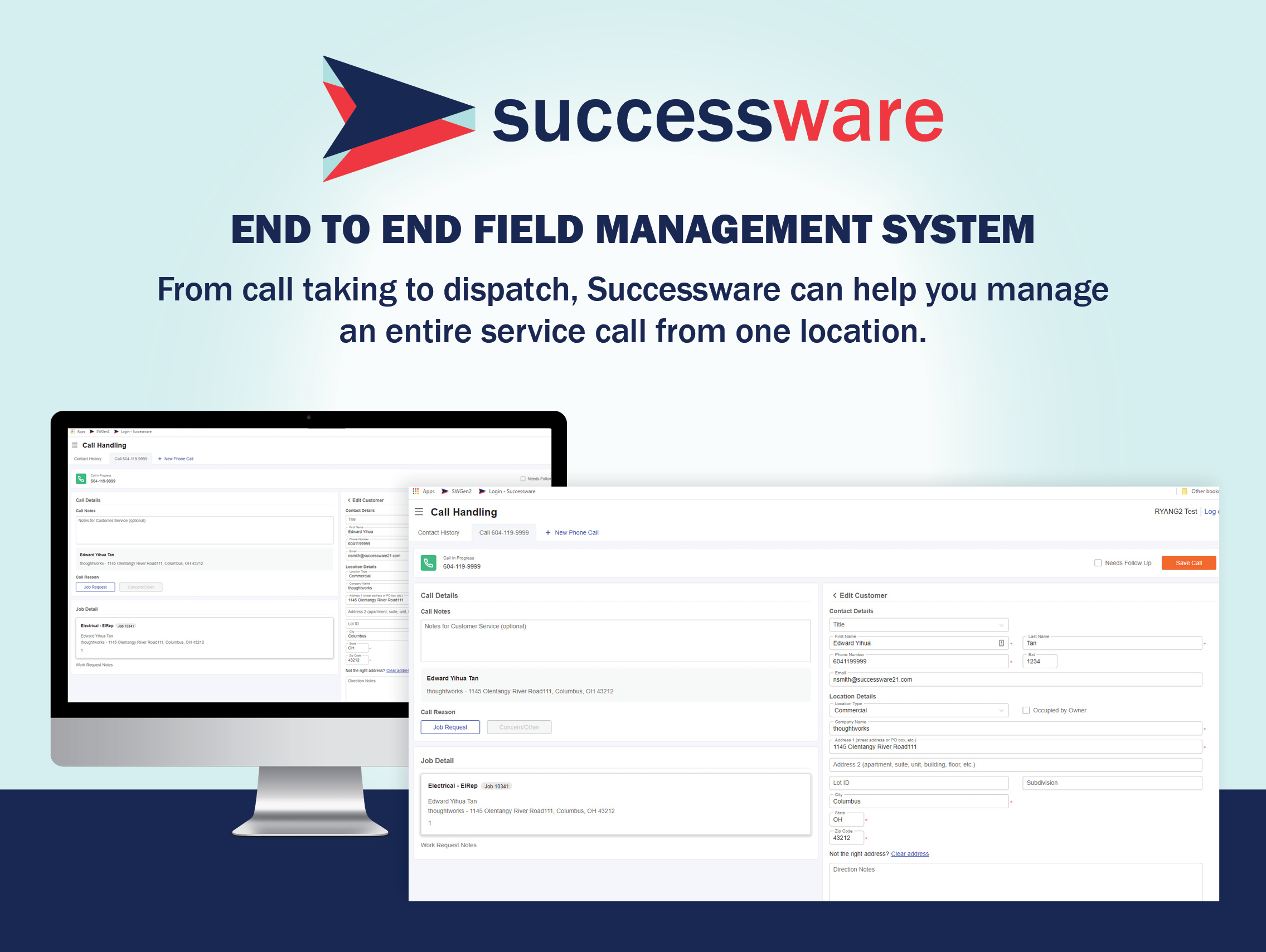 What products are available for a live demo?
Why do a live software demo?
See how it works: See our business software solutions in action and explore features and integrations available for your industry.
Walk through the tools: Successware is an all-in-one business solution that includes powerful features to supercharge your operations.
Get your questions answered: Learn in real-time from one of our knowledgeable Account Executives.
It's convenient: We'll work with your schedule to find the time that works best for you.