Successware was excited to exhibit at AHR Expo last week from January 31 through February 2. The conference was held at the Las Vegas Convention Center and featured over 1,500 exhibitors with attendees who work in the HVACR space.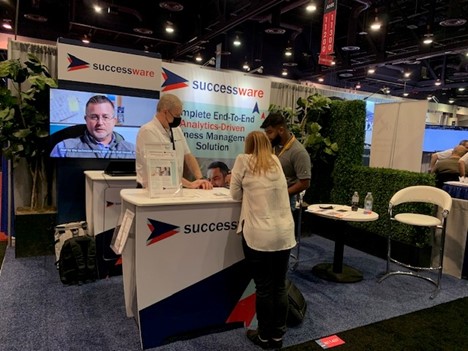 Getting back to live, in-person events has been great, and we appreciated being able to talk face-to-face with our current customers and potential customers as well. While at the show, we heard about many trends in the industry and got some insight about what is going on in the market.
A big thing we heard from attendees is that they are still using pen and paper for their business management, or maybe just use a simple dispatching software, to help with their needs. We were able to show potential customers how Successware's business management software is a great resource for their business with our complete, end-to-end system.
We were able to demonstrate all the wonderful features Successware and Successware Mobile have to offer your business like call taking, dispatching, a mobile app, accounting, sales & marketing, and much more.
For all attendees, we were able to show off our new Success Tools that have been recently released and show how they can help to manage and grow their businesses:
Successware Track: A version of Successware Mobile designed for apprentices and helpers that offer timecard management and the ability to view job assignments and customer records.
Successware BookIt: Our online appointment scheduling tool for your customers.
Successware Pay: An online payment functionality for your customers to pay invoices by credit card or ACH payment method.
We also talked about our final Success Tool, coming soon – Successware Connection – which is our robust, omnichannel communications platform incorporated directly into Successware Office that offers our clients voice, text, and email in one communications contact center.
Attendees at the show also got to hear about our upcoming launch of our new Successware Office platform, coming later this year. Our new platform will feature an analytics-drive reporting dashboard, intuitive call handling screen, brand-new dispatch assistant, and be completely hosted in the cloud.
We have a great time at AHR Expo and hope you did too! We are looking forward to attending the show next year.