Successware® was thrilled to exhibit at the Air Conditioning Contractors of America (ACCA) Conference and Expo from March 28th through March 30th this past week. After two long years, ACCA's first conference and expo since the pandemic was held in beautiful St. Louis, Missouri. The conference featured more than 30 hours of indispensable programming to assist HVACR contractors with important issues in their field.
Over the three-day conference, there were over 30 informational sessions and an amazing keynote speaker, Gerry O'Brion for attendees to take part in. For Successware, we had a wonderful time with our friends from Franchise Development and BuyMax by our side at the expo to speak with current and potential clients.
With the upcoming release of our Successware platform, we were able to introduce the new software program to attendees for the first time in-person at the expo! Demonstrating all the wonderful features in our new enhanced platform to potential customers.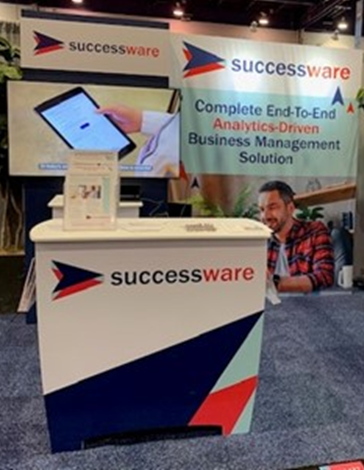 Some of the new features of the Successware platform are:
Extensive reporting dashboard with advanced analytic tools
Access to all your businesses data at the touch of a button
Dispatch assistant that makes finding the right technician for the job effortless
Intuitive call handling screen that allows for a seamless customer experience
Single sign-on and single payment
Intuitive, simple interface
Convenience – everything you need in one place
With the new platform, our system will be stored in the cloud, offering benefits such as increased uptime, scalability, increased security, data backup, disaster recovery, and more! With Successware getting a whole make-over, we hope to make it easier for you and hope to take your business to the next level. We're excited to introduce you to our new and improved Successware platform SOON!
Successware had a great time at the ACCA Conference and Expo, and we hope you did too! We hope to see you at the next one in New Orleans, Louisiana in 2023.