New Successware Platform FAQs
Q:

What is the new Successware Platform?

A:The new Successware® Platform is a state-of-the-art solution built on next-generation cloud-native technology, leveraging flexible and secure cloud-based hosting. Successware is the most comprehensive business management platform in the trade industry, with an intuitive, modern user experience, offering the only built-in, complete accounting solution on the market, and is backed by superior customer service and implementation support.

Q:

What makes the new Successware Platform different than Successware Classic?

A:The new Successware Platform still includes all the modules you have come to know and expect in Successware Classic™, with an updated look and feel and more robust features. It combines robust and deep business functionality with a modern, intuitive, web-based user experience to deliver you a comprehensive solution to run and grow your business. Some of our key new features include:

Q:

What are the benefits of being cloud hosted?

A:The new Successware Platform is completely hosted in the cloud which will benefit your business and data management. Being cloud-hosted enables Successware to provide you with real-time richer and deeper analytics and metrics on your overall business health and performance with Successware Insights. You will benefit from higher reliability, availability, scalability, increased security, data backup and disaster recovery, the latest innovations and technology, increased performance, and the freedom to work anywhere. It is a web-based cloud-native application, which means that you can access it simply through a web browser. Check out our Benefits of the Cloud blog series for additional information.

Q:

How do I migrate my data over from Successware Classic to the new Successware Platform?

A:Upon completion of a subscription agreement, our support team will manage the migration of your data to the new platform. We have built systems to port your data to the new instance of Successware without much work on your side.

Q:

How long does the data migration process take?

A:The data migration process takes approximately 30 days to complete. The standard migration process consists of 5 phases to onboard a customer. From Phase 1 there is a baseline analysis, looking at how you as a customer have been utilizing Successware. With access to your account, we will generate a checklist to ensure you have everything needed for your platform. From there, we will make sure you get into the LMS and guide you through the new platform. Phase 2 is when we create Gen2, creating that unique environment for you. In Phase 3, we have more webinar training for more complex workflows and significant changes to help you further navigate your way through the new platform. Phase 4 is finalizing and ensuring you and your staff are prepared and ready to go—scheduling and running the final data migration. In phase 5, we will follow up with you regarding the improvements and how the new platform works for you.

Q:

Is there a way to get a hands-on demo of the product before we commit to the new platform?

A:Yes! Our Sales Team will be conducting one-on-one demos of the new Successware Platform for all interested customers. You will be able to see the platform in its entirety and ask any questions you have regarding functionality.

Q:

Do I still need to have a separate data storage account like Dropbox?

A:The new Successware Platform comes with 1 Terabyte (TB) storage for the data, photos, and customer information you store in Successware. However, if you host other business files and data outside of Successware in your Dropbox account, you may need still need to keep that.

Q:

Will the new platform integrate with QuickBooks?

A:The new Successware Platform has integrated accounting directly into our platform and does not integrate with QuickBooks. The accounting module is a foundational cornerstone of Successware and eliminates the need to have a third-party accounting solution like QuickBooks. Our accounting module was built specifically for the trade industry and offers your business advanced features such as the ability to defer revenue for agreement visits.

Q:

Will the new Successware have any marketing platform integrations?

A:Yes, the new Successware will have marketing capabilities build directly into our platform.

Q:

Do you have any project management capabilities?

A:Yes, the new Successware Platform will have project management capabilities.

Q:

Is the new Successware Platform right for my business?

A:Yes! If you are looking for a feature-rich, business management solution and mobile application that not only makes your employees' jobs easier but also improves your customers' experience, then we are the solution for you!

Q:

How many back-office employees and technicians in the field are right for Successware and Successware Mobile™?

A:If you have at least one back-office employee and 3 technicians in the field, then Successware and Successware Mobile are perfect for your business. It scales up to larger businesses with hundreds of techs and back-office users.

Q:

Where can I see a sneak peak of the new Successware Platform?

A:Visit our new Successware Platform page for more information on our new platform and to watch a short highlight video of what you can expect with the new Successware Platform.

Q:

Does Successware Connection have a mobile application?

A:No, not currently. Successware Connection can be accessed from the new Successware Platform and Successware Office™. There currently is not a mobile application, but it is on our product roadmap for future development.

Q:

When can I go live with the new Successware Platform? Is there a waitlist for implementation?

A:Migration will begin in May 2022. Please contact your account executive to get started and for further information.

Q:

We currently do not have Successware Mobile. Should we adopt Mobile before we move to the new platform?

A:The new Successware platform does not require you to be using the Successware Mobile application. However, we strongly advise you to consider the package of platform and mobile, because it will offer you the best value and will help your business grow by leveraging the full suite of functionality.

Q:

Are there any changes to Successware Mobile?

A:No, Successware Mobile will still be the same application your technicians use today with minimal changes. We will continue to update and make improvements to our application based on user feedback as we have done before.

Q:

What is included in the price of the new Successware Platform?

A:Successware Classic will remain active for the foreseeable future. Successware is committed to maintaining our Successware Classic platform and supporting our Classic customers.




We will migrate all customers to the new Successware Platform in a manner that will not disrupt your business.

Q:

Will Successware Classic be discontinued?

A:Yes, Successware will continue to integrate with partners that we have today. Please ask your Account Executive for more details.

Q:

I have several tools I use in conjunction with Successware (i.e. Schedule Engine, PulseM, etc), will I still have access to them with the new Successware Platform?

A:Yes, Successware will continue to integrate with partners that we have today. Please ask your Account Executive for more details.

Q:

How much does the new Successware Platform cost?

A:Please contact your Account Executive for your new Successware Platform pricing.
A:Your sales executive will be reaching out to you to get your new features set up. If you don't wish to wait for a call, contact your sales executive or reach out to Tony Nicolaidis, Chief Revenue Officer, at tnicolaidis@successware21.com. Successware Features
Sucessware's All-In-One Business Management Software
Integrated Accounting

Our integrated accounting feature is built directly into the Successware platform, saving your business time and reducing the need for double entry of information.

Scheduling

Easily book new and recurring jobs, organize calendars, notify techs, and manage job details with Successware's all-in-one business management software.

Dispatching

Successware's dispatching software for home services businesses makes service tech management easy.

Invoicing

Reduce technician administrative time with one-click digital invoicing.

Inventory

With Successware you can rest assured you're staying on top of your inventory. Our HVAC inventory management software helps you keep track of the parts you have and the parts that you need so you can quote jobs more easily.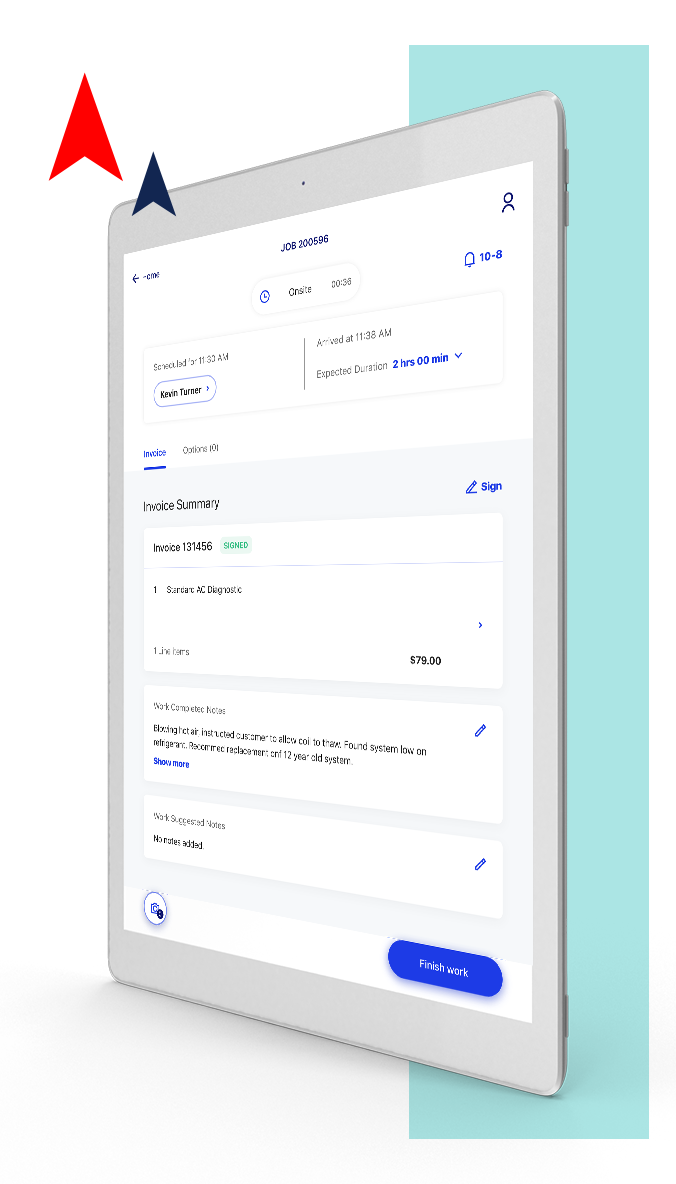 Request a Live Demo